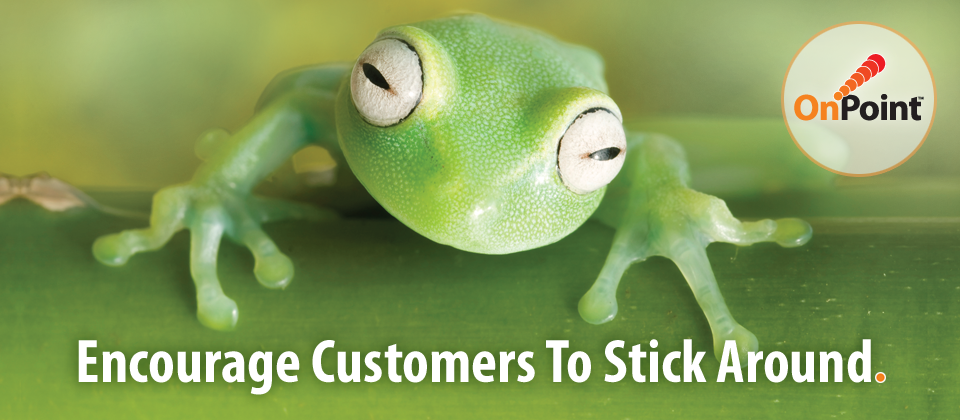 OnPoint can set you apart from the competition in so many ways! If you're like most of our customers, you may have offered a loyalty program where the customer earned credits for some future big-ticket purchase every year they met your qualifications. OnPoint is different. With the SmartConnect Account Look-Up module, OnPoint can provide real-time points values based on invoicing and payments.
With OnPoint, you can offer your customers those same credits … but can also offer gift certificates/credits to offset their monthly out-of-pocket expenses, incentives for smaller items or other diversified services, branded merchandise, third-party discounts – anything you can think of! Your customer sees the greater flexibility in how they use their credits as an additional value – and a good reason to stick around! You see more opportunities to provide the customer with additional services or products.
OnPoint doesn't just meet your customers' needs; it meets your needs, too!
Customer Look-Up Module
Promotes your products, your way!

Introduce new products and services with discount offers
Offer bonuses to new customers
Provide bonuses for customer referrals

Adds value to your products and services
Attracts new customers
Posts reward notices to your customers' Facebook pages
Increases positive word-of-mouth
Drives traffic to your company website
Reduces your staff's clerical time
Provides around-the-clock access to your customers
Tracks marketing campaigns with special codes for bonus points
But there is even MORE!
Daily calculations of rewards points
OnPoint tallies each customer's rewards points daily: purchases, redemption


Automatic system frees up employees
YOU don't spend any time counting, calculating, conforming or copying rewards or loyalty points. OnPoint does it all for you!


Easy customer access via web portal
The portal is accessed with a link on your website. If you don't have a website, the portal can stand on its own, with a unique URL (or speak with PriMedia about developing a site for your company)


Increase sales and services
OnPoint gives you more opportunities to promote your business, including adding marketing messages on the portal.


Wide variety of options for rewards
From credits toward products and services … to gift certificates … to third-party incentives – you can reward your customers however you like! Rewards and values are completely determined by your company. OnPoint can integrate with a rewards fulfillment provider to offer even more options, including jewelry, electronics, travel vouchers, and event tickets.


Customer choice in redemption options
It's not a "reward" if it's something the customer doesn't want! With OnPoint, your customers can choose from all the reward options you offer.


Next-day availability of rewards points
There's no "hold" on points once they're earned. Your customers can use their points as soon as they're posted to the account – it's instant gratification!


Enhanced diversified services marketing
Create reward certificates for discounts in other divisions. Customers redeem their points to "purchase" the certificate, and then use the certificate to purchase more goods or services from your company!


Bonus points and promo codes
Want to promote a new service … increase product sales … get more referrals? Simply log in to your administrator area and add bonus points or rewards! Set promo codes for specific purchases, or use to track marketing campaigns


Broad admin area
Need to change the points values of existing rewards? Set internal user permissions? Update or review a specific client's account? Review redemptions by offer … or date … or value? Our user-friendly program makes it easy! (Or, if you prefer we are just a call away to make any of these adjustments for you.*)


Integration with Facebook
Once customers log in through Facebook, the app can post updates directly on their wall whenever they earn reward points. These updates will be seen by all their friends, creating a buzz about OnPoint rewards … and your company.
*Additional charges may apply.
Learn More
Find out how OnPoint can enhance your customer satisfaction. Call PriMedia at 800-796-3342 or contact us to schedule your FREE demonstration.