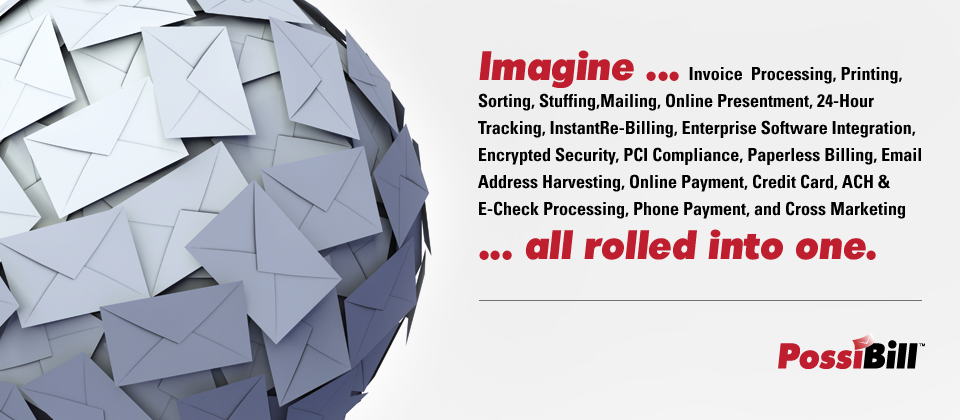 The Possibilities Are Endless!
PossiBill™ is a bill presentment and payment solution that provides a wealth of benefits. From cost reduction to accelerated cash flow to paperless billing, PossiBill delivers. Here is a close look at the benefits.
Customer Look-Up Module
Rapid Bill Presentment


Utilizing your ADDS interface, billing data can be automatically transmitted for bill presentment (invoicing) within 24 hours.

Multiple Payment Avenue


Customers enjoy an expanded range of payment options, including online and by phone using either credit card or electronic funds transfer (EFT). The Interactive Voice Response (IVR) phone payment system operates 24 hours a day.

Reduce Postage Costs


Companies that send a lot of bills will enjoy an immediate reduction in costs. No more postage. No more forms. No more printing. No more leased equipment.

Reduced Office Chores


Office staff will be freed to concentrate on other responsibilities, because PossiBill manages all print and distribution chores.

Paperless Billing Option


PossiBill offers customers the option of traditional printed bills or paperless e-bills that are announced by e-mail. This is a great option for customers who handle their finances online and for green-minded customers.

Customer Communications


We can design your invoices with space for company announcements and promotions.

Additional Payment Options


You can offer your customers a complete range of payment options. They can pay online by credit card or electronic funds transfer (EFT). They can pay by phone 24 hours a day. They can call the office to pay by credit card, or they can mail you a check.

Reduced Billing Costs


You'll be able to stop ordering blank invoices, stop printing bills, and stop stuffing envelopes. Cost savings of $.30 to $.50 per bill are typical.

Customer Convenience


Consumers who shop online are accustomed to conducting business at their own convenience. You'll be able to satisfy them by offering online bill payment and 24-hour pay-by-phone using our Interactive Voice Response (IVR) system. They'll also be able to view their billing history online.

Marketing


We create customized invoice forms that can include sections for announcements, promotions and coupons. You'll be able to deliver company news and alert customers to seasonal promotions in every bill.

Invoice and Payment Tracking


PossiBill's online portal helps you manage billing and receipts. You can review invoices before they are mailed, then track payments as they are made. Office staff can quickly access billing statements and payment histories.

E-Mail Address Harvesting


PossiBill accelerates the process of gathering customer e-mails, because customers must provide their e-mail addresses to look up their accounts or choose the paperless billing option.

Compliance


PossiBill is PCI-compliant and HIPAA-compliant.
Learn More
Make your billing system more efficient. Call PriMedia at 800-796-3342 or contact us to schedule your FREE demonstration.